Sukh Brar, Surrey Realtor and specialist in Surrey Real Estate
3 Tips when choosing your Surrey Realtor
As much as I am a Top Producing Real Estate Agent in North Delta, I do have an abundance of experience, knowledge and specialization in servicing Surrey Real Estate. My professional career in the Real Estate Industry stems partly from my initial experiences in selling Surrey homes. If you are thinking of selling your home in Surrey, you want to have a knowledgeable and experienced Realtor to represent you and to get you the best price possible for your home. Today, I will provide you with 3 tips in how to choose the best Realtor to service and to sell your Surrey home fast and for more.
Tip Number 1: Hire a Professional Surrey Realtor. As the old saying goes, "if you think hiring a professional is expensive, wait till you hire an inexperienced one." When it comes to the sale of your Surrey home, the stakes are high, this is one investment where going cheaper is not always better. What does a Professional Surrey Realtor look like? You want your Surrey Realtor to be experienced, to be knowledgeable and to be able to close a deal. Inexperienced Realtors lack confidence, skills in negotiating and how to handle the small hiccups that may occur in handling the legalities of a Real Estate transaction.

Tip Number 2: Ask them about their sales history. Want to know if you are listing with the best Realtor to sell your Surrey home? Find out. Ask the Realtor how many homes they sold in the past year. Read up on their testimonials from former clients. Ask for references. Hard work and tenacity should not go unnoticed, because that's the type of Realtor you want and that's the type of Realtor that can sell your Surrey home.

Tip Number 3: Be precautions and realistic about pricing, choosing the Realtor who suggests the highest price for your Surrey property is not always in your best interest. There is an enormous misconception that some home Sellers have when it comes to deciding on the value of their Surrey home. Sometimes they choose the Realtor with the highest suggested listing price because they believe for one, that their home is the best and two, that they can always drop the price later if it doesn't sell. However, that's not how it works. An overpriced home benefits no one, except for a Realtor looking to list your home and pray that it sells. Buyers are not drawn to overpriced homes, just like the Seller they are looking for a deal. Would you buy an overpriced home? Sincerity and integrity in any person is a priceless attribute. An "honest, trustworthy and reliable" agent prices your Surrey home competitively, knows your Surrey homes property value in terms of the current market and prices your Surrey home to sell for it's highest market value.
As you can see in the stats that I have personally compiled below to illustrate the point that on average an overpriced property is going to take longer to sell (if at all) and on average sells much lower than anticipated. The benifts of having a Professional Surrey Realtor that knows the local market and has experience in pricing a home competively reduces the time you need to invest in selling your home and sells on average at a higher sale to list ratio. Time is money. As a Realtor specializing in Surrey Real Estate, I care about your investment and I value your time. Pricing your home right is critical in saving you time and earning you money. If you would like more information on the statistics below click here.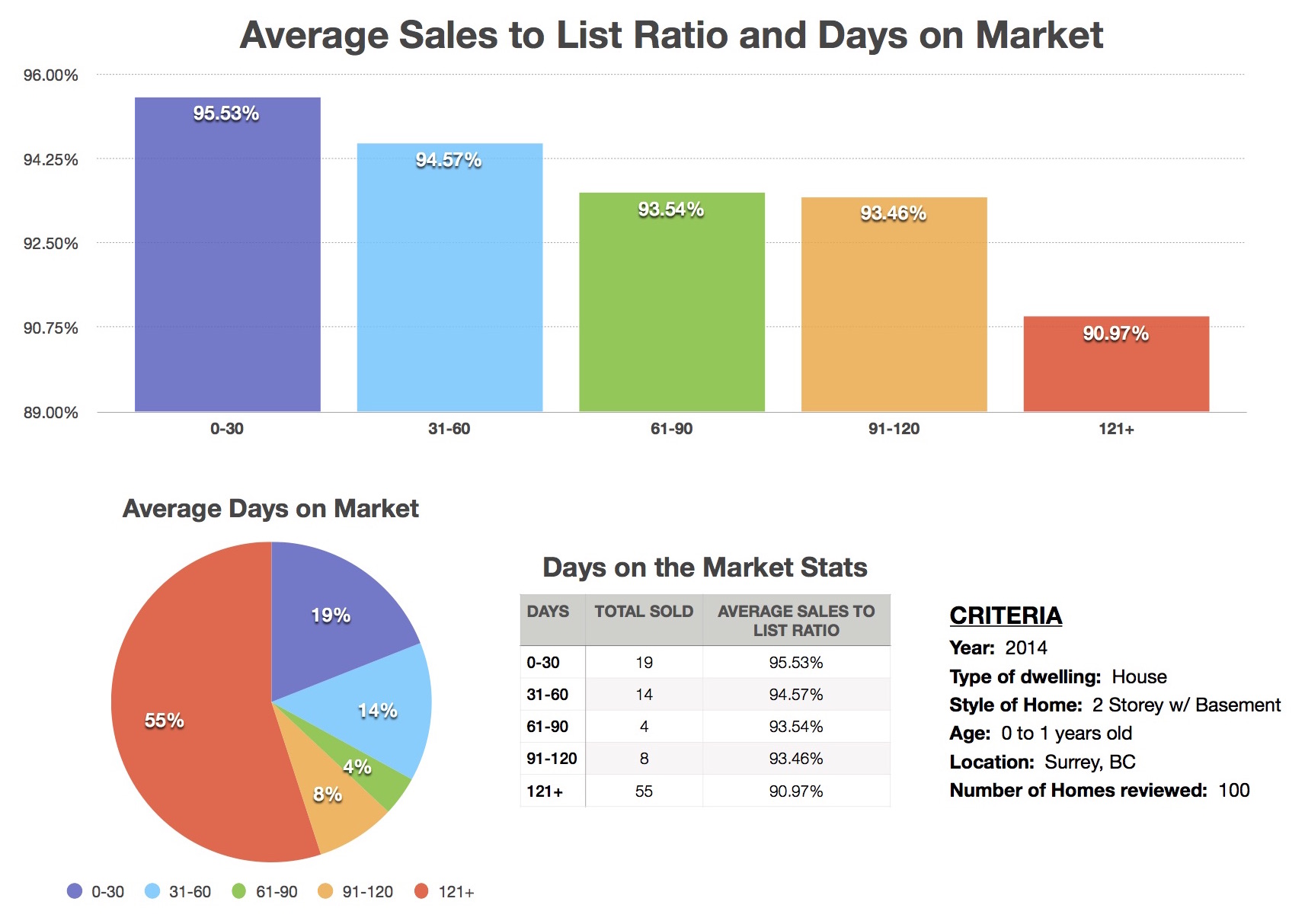 I hope that my 3 Tips for choosing the best Surrey Realtor to represent you was helpful. Feel free to contact me anytime at 778 896 4003.
Sincerely,

MLS Top 1% Realtor (FVREB) specializing in Surrey Real Estate