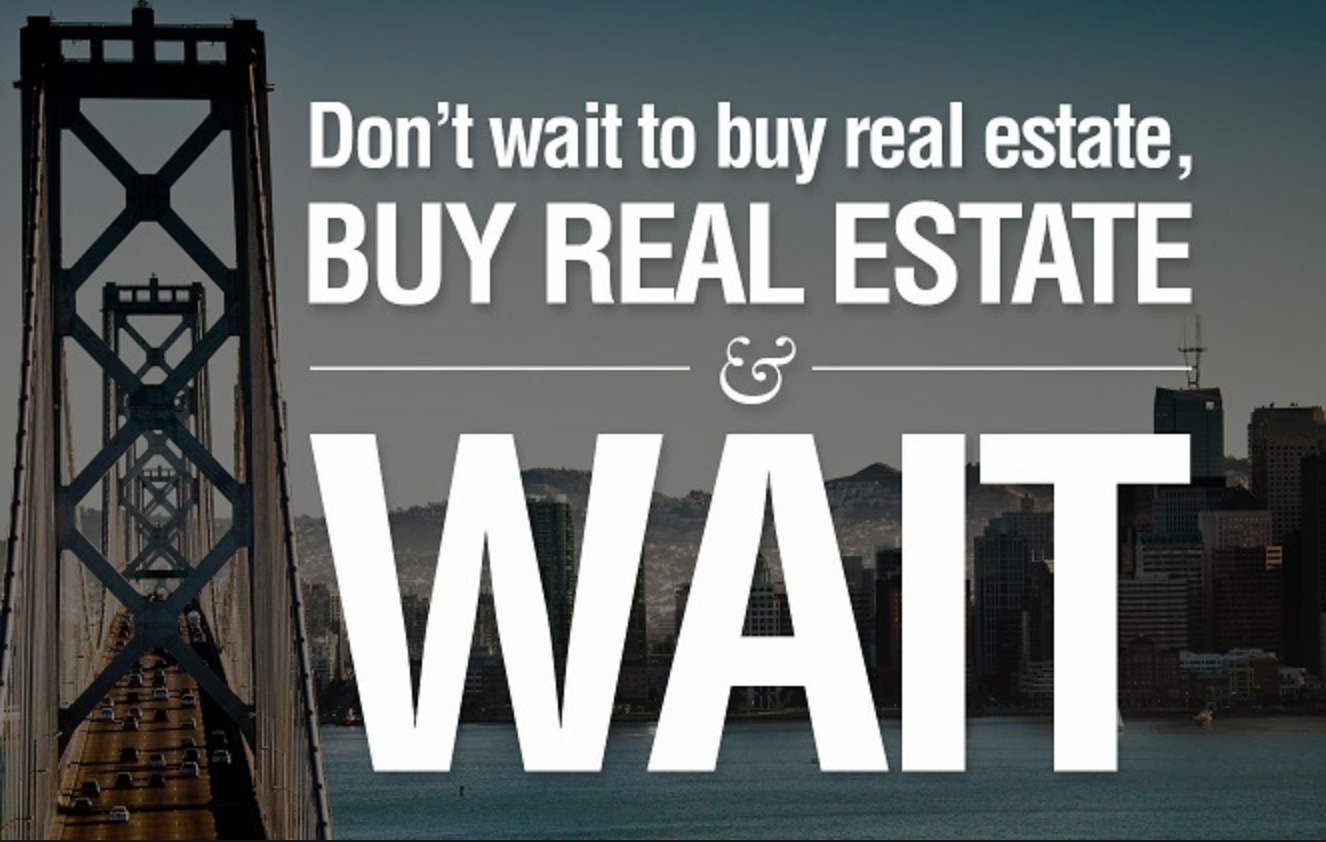 In this quote, it would appear that buying and selling Real Estate is as easy as 1, 2, 3.  Basically, saying don't hesitate if you can afford to buy Real Estate, buy it now because it will always garner a return in the future.  
What happens though when we throw in an increase in Mortgage rates, new "stress test" policies, a foreign buyers tax, speculation tax, new bylaws that restrict secondary suites and the Real Estate Cycle. 
As mentioned in a previous blog my team and I worked on, we talked about the Real Estate Cycle and how it composes of 4 phases:  
Recovery, Expansion, Hypersupply, and Recession
.  Here are few graphs to give you a better idea of what the Real Estate Cycle encompasses.  Each graph hopefully illustrates or brings home the meaning of what the "Real Estate Cycle" is.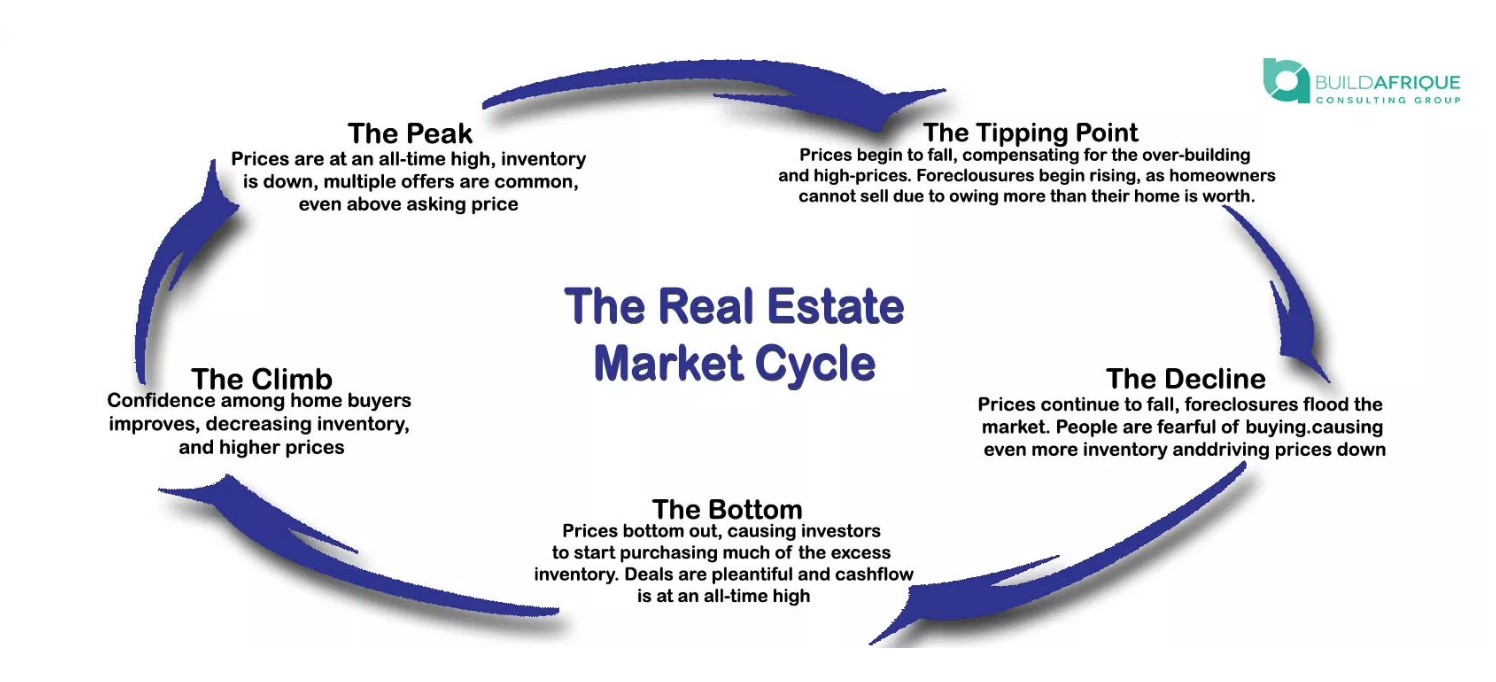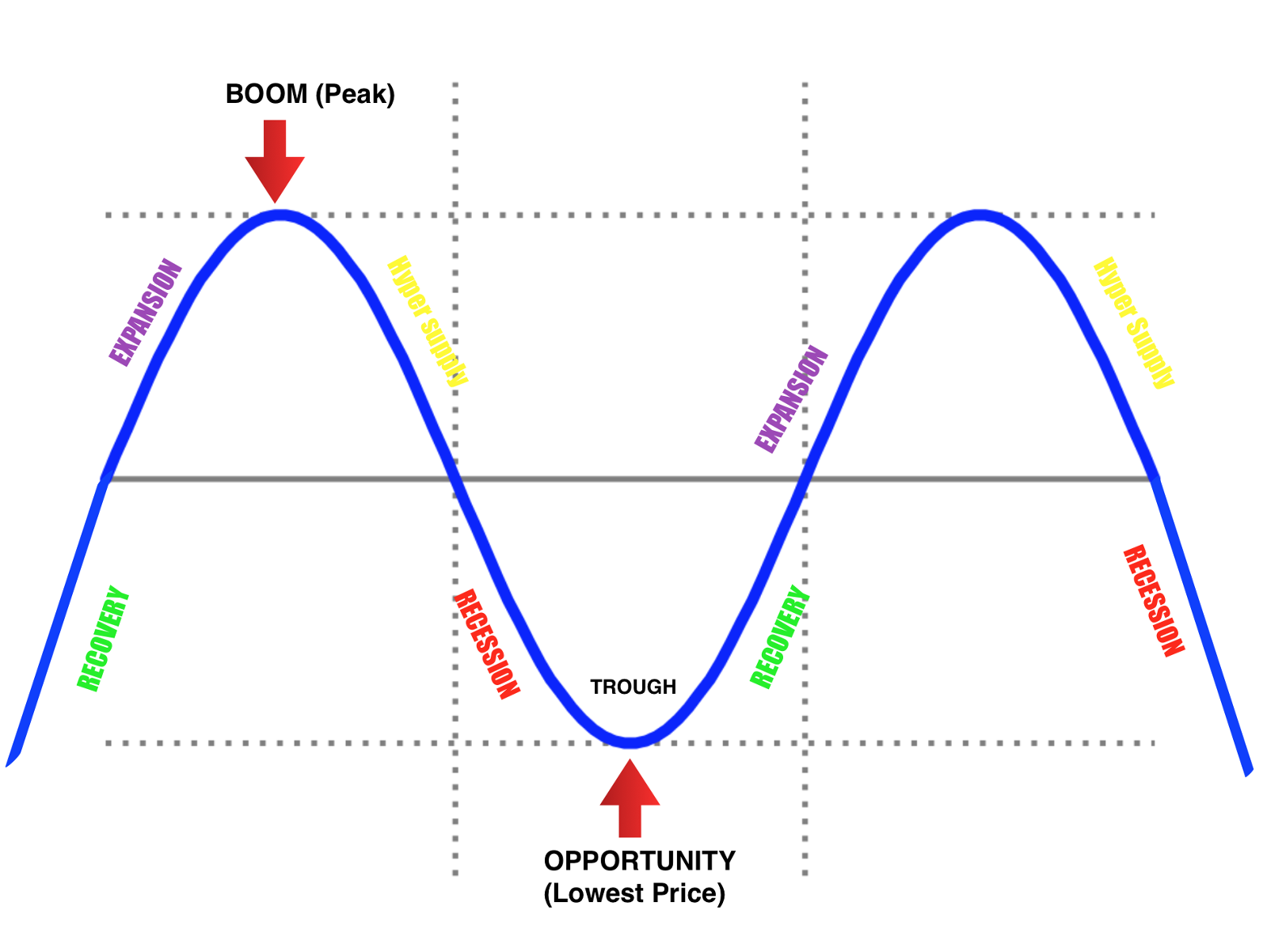 *
Trough:
Marks the lowest point in the cycle and the trigger into the Recession Phase or Phase III of the Real Estate Cycle.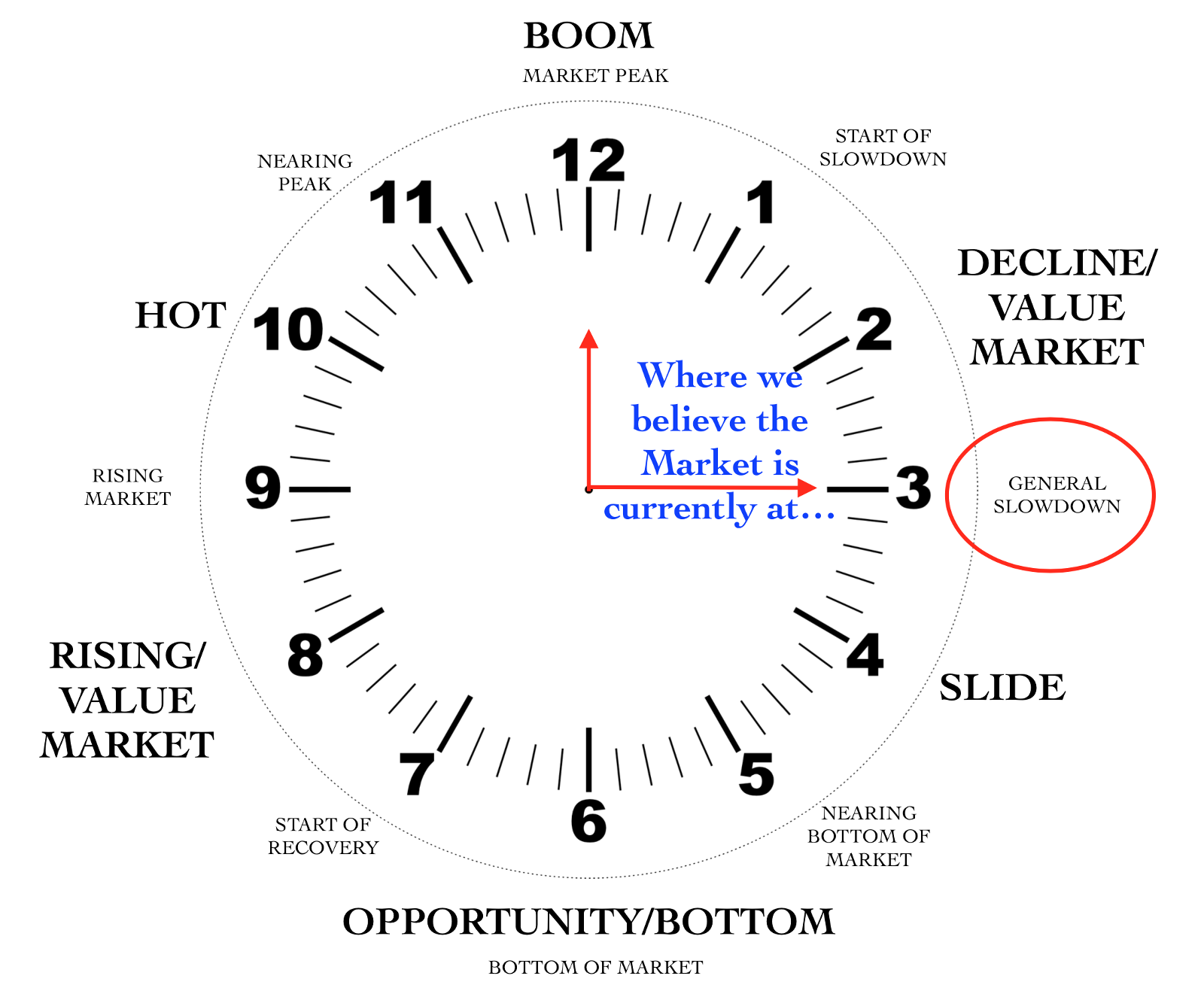 As you can observe, the Real Estate Cycle moves in waves or like clockwork.  However, not exactly like a "clockwork", because each phase can typically last between 2-3 years.  In terms of our educated opinion at this time, we believe we are in a "shift" or
general slowdown
period within the transition into Phase III (Recession).  Currently, we had 323 homes listed in Scottsdale and Annieville in North Delta from January 1st, 2018 to August 31st, 2018.  During this same period, only 137 homes sold.  Using basic math, we can see that approximately 42% of the homes being listed are actually being sold.  A significant decline compared to 2017, which had 342 homes listed from January 1st, 2017 to August 31st, 2017 and 218 homes were sold in that time frame.  Therefore, 63% of homes listed were sold.  Let's take a quick look at the peak of the market in 2016 and compare the same time frame.  In 2016, 485 homes were listed and 291 sold, which works out to be about 60%.  Now, with all things, it's best to look at many aspects of the equation.  This is simply one perspective of how the market has shifted and is moving through the Real Estate Cycle.  Let's take a look and dive deeper into our North Delta neighbourhood with the graphs below that focus and narrow in specificially in our Scottsdale and Annieville neighbourhood.  

What goes up, must come down...  The graph above shows a 5-year span in the North Delta Real Estate Market (Scottsdale and Annieville neighbourhoods).  As you can see the large spike in homes selling over asking in 2016.  2017 was still a stellar year in the industry.  The thing is 2016 was not really a normal increase in home value, it was actually an unusually high increase in home prices.  Nonetheless, the big peak was in 2016 and now we have begun the shift.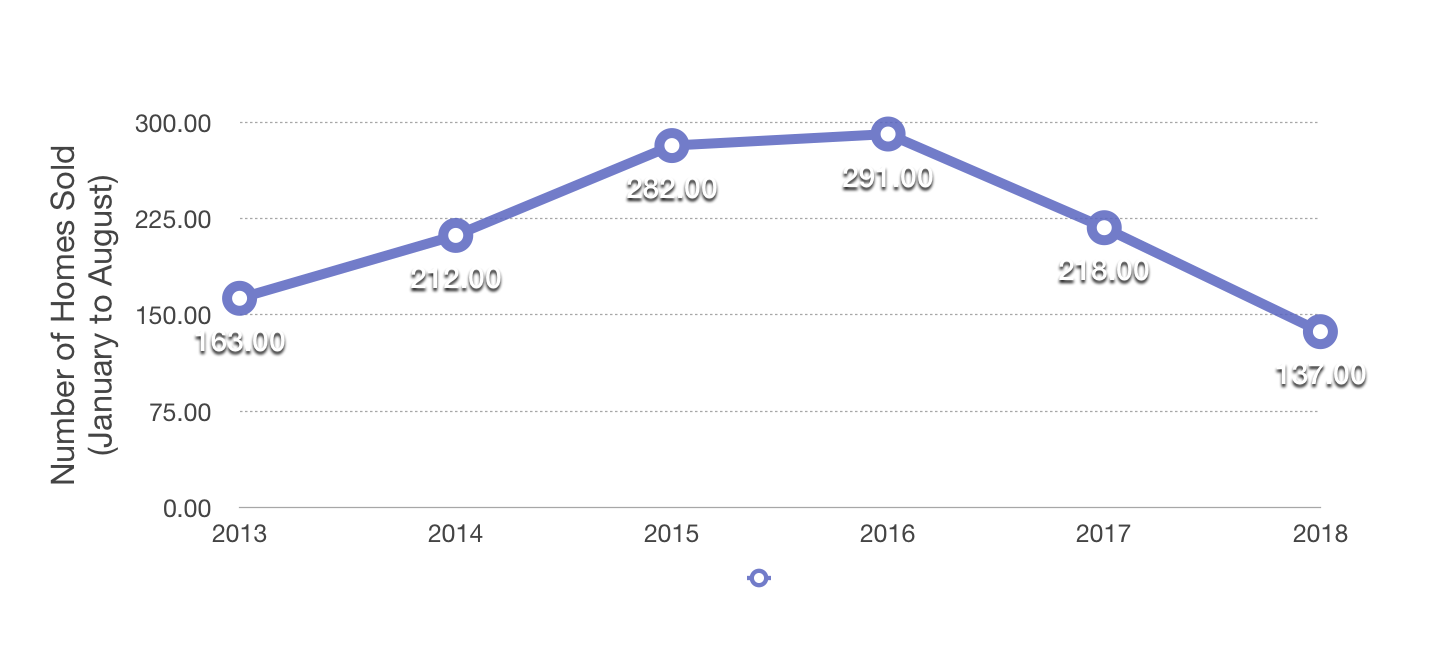 This graph shows the number of homes that sold over the last 5 years from January to August of each year.  Again, we can see the spike in 2016 and a trail of descent moving forward. This graph is the most significant in the drop in numbers, we have not seen such low sales numbers in our neighbourhood even when we went to look at sales data in 2001 (almost 20 years ago!).  
As mentioned above many factors have influenced the market value of our homes:
1.  Mortgage rates, 
2. New "stress test" policies, 
3. A foreign buyers tax, 
4. Speculation tax, 
5. New bylaws that restrict secondary suites and 
6. The Real Estate Cycle. 
In North Delta specifically, the demand for Ranchers has declined significantly.  Builders and Investors are not buying these properties with the new bylaws that have placed new restrictions on secondary suites. Generally, Investors will be holding onto their wallets and watching the market until the "Trough" or Opportunity/Bottom of the Real Estate Cycle hits.  As well, foreign investment had begun to decline in 2017 and has further appeared to decline with government intervention policies.  As prices, begin to decline the 15% tax that was imposed may not look so hefty to foreign investors as it did during the peak of the market.  Mortgage rates have put a significant strain on those who truly are looking to buy a home and thus, many offers have collapsed due to financing.  

This graph shows how quickly homes were selling in the 5-year glance.  As you can notice, 2016 had the highest demands, selling homes on average within 15 days of being on the market.  Having had hands-on experience in the market in 2016, I can personally tell you that homes were selling within a day or days of being listed and $50,000 to $100,000 or more over the listed asking price due to multiple offers and bids.  Fast forwarding to the present, in 2018 we have significantly more homes having to reduce the listed price of their property to adjust to the shifting market and to get their home sold.  In any market, price reductions are common, simply put, many of us believe our homes are worth more than what the market has to offer.  However, in 2018, it has been more difficult for home sellers to adjust to this "shift" in the market.
Remember, everything is an average, meaning there were still homes that sat on the market each year over 100 days.  This graph simply shows that the activity is beginning to slow.  In 2016, 66% of the homes listed were selling over the asking price.  The highest I discovered went 35% above the listed price.  In 2018, we still have currently about 25% of the homes listed this year having sold over asking, the highest was 11% over the listed price.  On the flip side, we have
homes in 2018 being sold $30,000, $50,000 to $94,000 below the asking price
.  Many more sellers have had to reduce their initial asking price in order to get their homes sold.  The days on the market provided above does not take this into consideration, because homes are usually re-listed at a new price and the days of the market count is re-started, thus skewing the numbers.  In fact, approximately 16% of Sellers reduced their initial asking price in 2018.  In 2017, this number was at 12% of homes sold.  Again, one should keep in mind that this number only accounts for those who actually sold their homes after reducing their asking price.  Many homes may have had price reductions and listed for significant days on the market only to never see the light and satisfaction of a sold sign on their property.  
With every statistic comes the necessity to evaluate many factors in order to come into any kind of substantial grounding evidence.  As a team we believe the information above, with everything considered, we can all agree the market is shifting and we are moving in Phase III of the Real Estate Cycle.  Like every transition in life, people need time to adjust and to change their perspective, as do Home Sellers and Buyers active in the Real Estate Market.  For Sellers, those who price according to the market will see their homes with a sold sign faster than those who continue to hold onto the dreams of 2016.  In the future, there will be a BOOM again, but it is a natural cycle and time that the market sees a slight decline.  
As always, I hope this article provided you with some insight on the current market in North Delta.  We are a team that strives to be insightful, resourceful and to provide valuable information to our clients.  If you have any further questions about this article or about the Real Estate Market in North Delta, don't hesitate to call or contact us for a comprehensive 
no obligation home evaluation
 today. 
The following information is based on investment principles by the Real Estate Investment Network of Canada in good faith without warranty or liability for any incomplete or misleading information. Sukh Brar Real Estate Group is not responsible for the actions taken in reliance on the information contained neither in this publication nor for any errors contained therein or presented thereat or omissions in reaction thereto. Sukh Brar Real Estate Group hereby disclaims any and all liability to any person arising in respect of this information and of the consequences of anything done or purported to be done by any such person in reliance, whether in whole or part, upon the whole or any part of the contents of this information.